This week is all about honoring the dedicated individuals who have chosen to give selflessly to their communities, countries, and profession. Teacher, firefighter, nurse, and military appreciation week is a celebration to honor the hard work and dedication of these outstanding individuals.
Teachers are appreciated for the countless hours they put in to ensure every child in their classrooms is learning, building knowledge, and growing. Teachers give children the educational and emotional tools they need to become successful adults. From a young age to grade school, teachers provide children with the basic standards of growing, interacting, and learning in an exceedingly safe environment.
Firefighters are vital to the community, always there to help in a crisis. Firefighters put their lives on the line daily, risking injury and death to protect a community and assist in an emergency. Firefighters show courage, compassion, and dedication as they put themselves in harm's way every day, and this week we honor their commitment and bravery.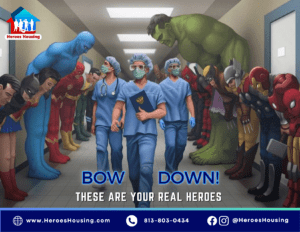 Nurses show courage, dedication, and compassion daily as they care for their patients. They provide emotional support and are constantly looking out for their patient's well-being. Nurses are on the frontline in hospitals and often in challenging situations; they are a source of comfort and care for patients. Nurses play a vital role in the medical industry and their dedication and care should be celebrated and honored.
The armed forces of the United States are celebrated for their bravery and commitment to protecting their country and its people. The culture of remembrance increases awareness and starts the conversation of appreciation. Military appreciation week is an opportunity to recognize the bold and brave men and women serving in our armed forces.
This week, take some time to be grateful for all the teachers, firefighters, nurses, and military personnel that have made and continue to make, sacrifices to serve their communities and country. Let us recognize and celebrate their commitment to helping others and take part in honoring them during this appreciation week.
The Heroes Housing program is designed to help America's truest heroes purchase a home and defray some of the costs of purchasing a home.  Our program is designed for the following people:
Active or Retired:
Military/Veterans
First Responders (EMTs, Police, Firefighters, etc)
Health Care Professionals
Teachers
If you are one in one of the occupations listed above or know someone that is, please give us a call at 813-803-0434. We can offer assistance with down payments, appraisal and inspection fees, and closing costs.